My Services
Kids' parties
A video about your kid's birthday party or a family celebration is so much more than just recording of the event. It's an art of capturing the highlights and the atmosphere of the party at a point in time, which your family and friends will cherish in the years to come.
Music video
Beautiful artistic video is a great opportunity for musicians of all ages to frame their talent. Beginning musicians will be able to finally believe in themselves and continue their music lessons.
Promotional video
Promotional video is the best way to promote your business, services or a hobby. By placing it in the Social media, we'll help you reinforce your brand image and build a useful network.

We're living in the era of YouTube, when a musician meets his audience on the Internet. Music videos that Vsevolod created for me, helped me find listeners who can relate to and appreciate my work.

— Sergey Klichis, singer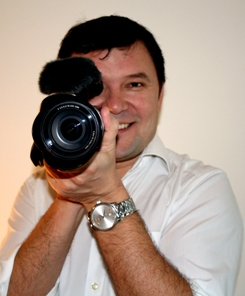 My name is Vsevolod Bernstein. I was born in Russia. I reside in Switzerland since 2007. I am a journalist with over 15 years of experience working for the Russian and Swiss media. I am an author of three published books and a large number of publications. I graduated from the video production school in Zurich - EB Schule Zürich. I am married and I have two daughters. Video helps me convey the beauty of this world and people around me. It's also a unique opportunity of self-realisation for people on both sides of the camera.
Contact
E-mail:
vvbernstein@gmail.com
Phone:
00 41 76 586 4997